The Lazybirds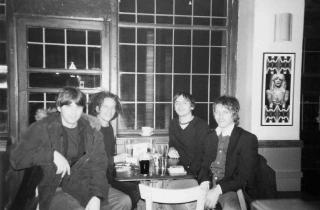 Interview Date : 9 January 2003
Location : unknown pub, London, England
Broadcast date : 11 February 2003

Andy : guitar
Ed : bass
Andrew : vocals
Shawn : drums

Admittedly I didn't know much about the Lazybirds when I met up with them
on a rather damp Thursday night. It was near the end of a two week visit to the UK
and I'm sure Charles must have been worried that this interview might not happen after all.
But it did happen and a few pints later I was happy I had made the trek down to a
tube station I had never heard of before to meet with four of the funniest musicians I've met.
It was a fine end to a snowy time in London.............Berny
Berny: You can all testify to the fact that we were at a noisier pub and we've moved down the road.
Andrew: Yes it was much noisier there.
Berny: And this one has no Australians, pimps or prostitutes so we should be fine. Not that the other one was rife with them but you never know.
Andrew: We're quite near Westminister so we should be alright.
Berny: We're not anywhere near Hackney are we?
Andrew: No no no
Berny: Is there going to be a gunfight breaking out?
Andrew: We're quite a bit away.
Ed: There might be some muggings.
Berny: We can watch them right out the window there. We don't know much about you so lets start with how the band came together.
Andrew: Did I put the advert in or did you?
Ed: It was a mutual...
Andrew: No I put the advert in. I was just looking for a band so I put an advert in Melody Maker which no longer exists. I saw lots of different people, well I didn't see a lot of people actually I just spoke to a lot of them on the phone. Most of them could be ruled out straight away on account of them sounding pretty insane. I met a few people then I met Ed, Andy and Shawn who had just got rid of a singer and that's how we met that was about three and a half years ago.
Ed: Because I was looking for a band and then I met Shawn and Andy. I thought they were fantastic but I wasn't too sure about the singer. So we did a demo and after we had done it we thought everything was great apart from the singing and we needed to get rid of it. We met a couple of people we were looking for about a year. The people you meet its unbelievable, you don't know what to say really when people come knock on your door. A lot of times you can suss them out on the phone and you say give me an address and I'll send you a couple of songs.
Berny: I'm just amazed by the number of bands that get together through advertising in the paper. Every time I think about that I go to those scenes in the Commitments with all the weird guys showing up at his door.
Andrew: It's not unlike that. I had some very bizarre responses. I had a guy ring me up from Germany wanting me to sing on some German nursery rhymes. I also had a phone call from a guy who rang me from New Orleans and had an amazing conversation with him and he's just worked with everyone but I didn't go near him because he was quite obviously insane.
Berny: With him being in New Orleans as well you can't really just go around.
Andrew: Well he was looking to manage a band. He's started out with like Phil Spector and just anybody with a name he's worked with. We had a good conversation but he was a madman.
Ed: There's a lot of interesting people whose vocation is music. We met one guy before we met Andrew. He looked the part he had quite a good haircut and we asked him to sing us a song and he said he could play a song by the Smiths. He played about three or four of them which is fine but he wasn't really ready to play anything else yet.
Berny: And you didn't want to be in a Smiths cover band although there is a quite good one in LA.
Ed: They're called Gene.
Berny: Charles is going to be so hurt! I interviewed Gene just a few months ago.
Andy: Are they still playing?
Berny: Yeah they are I think they're touring in March. Perhaps they'll be turning up at one of the stations nearby and busking with a little hat out there and seeing what they can get. They did quite well in LA but I don't think the rest of the country went as well.
Ed: But Morrissey is quite popular in America so they should do well.
Berny: Just in LA though. Los Angeles is in a time warp when it comes to music.
Andy: We can exploit this market!
Berny: Its sort of stuck in the early nineties sort of in 93 or 94 people are still really crazy about stuff that came off of Pulp's Different Class and you want to tell them there are other bands out there.
Ed: So if we played a gig in LA do you think we'll be well received?
Berny: I think you would. You can play Charles' club. It has a nice little stage. I don't think we can pay expenses though.
Ed: If you put on a good gig we'll go.
Berny: Charles does have a spare room.
Andrew: Yeah well you three will be in there, I'll be on Mulholland Drive.
Berny: Well its quite far from where the club is to Mulholland Drive. British Airways does have a good deal going on now.
Andrew: There you go Charles. You get the gear and we'll be there. A drum kit, couple of amps and we'll bring the guitars. We'll pay for ourselves to get out there you just bring the equipment and the audience.
Ed: We'll DJ as well.
Berny: They do have a bit of skinhead following at t he club though.
Ed: Its alright we'll shave our heads.
Andrew: We'll fight as well.
Berny: Fred Perry's and Ben Sherman all around then! You can arrange that later. Its been three and a half years, what have you done besides what we've heard? There's obviously other stuff out there that we haven't heard yet.
Andrew: It took us about six months to get things right then we started playing and recording. We have about thirty songs I'd say.
Berny: And there's only four on that CD you gave me?
Andrew: Well we only deal with the recent stuff.
Berny: Is it you're embarrassed by the earlier stuff?
Andrew: Not at all. We get more excited about the later stuff.
Shawn: If you really want it we can get it to you.
Berny: We want everything!
Andy: Its the same with everything. You get new tracks and you're more excited about them. When you start out you kind of spend more time practicing and doing gigs and stuff. When you start spending more time recording then those new songs are the ones that you're thinking we've got to get these out.
Berny: Sort of like "look what we just did"
Andrew: Also we're better at recording now. As with the earlier songs if they came along right now some of them would be just as good right now. Judas is Alright we did that last Saturday and it took us four hours.
Andy: I was very very ill at the time as well.
Berny: But you carried on and you did it.
Andy: I soldiered through it.
Andrew: We've done lots of gigs. We've played in and around London. Played everywhere from places with eight people in them to Shepherd's Bush Empire. We're very good live.
Ed: We played in May at a place called Borderline. It was a really good gig and there were quite a lot of people there, we were sort of asked to do it at the last minute. We were on early and everyone was late. We started playing and the first song we did that night was really good even if people were still just milling in. We don't have that attitude of there are only two people here and we're not going to play.
Berny: So you play like its a packed house every night then?
Shawn: I think we want to impress each other as well as everyone else and it doesn't really matter how many people are there.
Berny: Just to practice your rock star moves then? You're going to need some rock star moves if you come to LA.
Andrew: I thought rock star moves were to treat your audience with contempt.
Berny: Have you played outside of England?
Andrew: No, not yet but we really want to.
Berny: You really really want to go to LA and play don't you?
Ed: No, we just want to go to LA.
Berny: We'll book you in one of the smaller venues around town with some other bands.
Andrew: The only venue I went to was the House of Blues.
Berny: Gene played there, they sold out. Actually they didn't sell out because Morrissey played the same night and everyone drove a hundred miles out of town to go see him instead of staying in town to see Gene.
Ed: Wanker.
Berny: Its not my favorite venue.
Andrew: I was just well impressed that you drove up and someone parks your car for you.
Berny: Well you have to make sure its the man in the red vest that works for the club otherwise you've just given your car away to a man in a red vest for no reason and you pay them very dear to take good care of your car. Moving on to music, who are your influences? (slight groan from the band) No because Charles feels that the vocals are a bit Suede influenced but that could just be because of where you're from.
Ed: He's from Liverpool though and Brett is from Brighton.
Berny: Well we didn't know that we thought perhaps with you being from London.
Shawn: Only one of us is from London.
Ed: That's me.
Berny: The rest of you are imported?
Shawn: I'm from a very small town near Birmingham.
Andrew: Andy is from Cheltenham where Brian Jones was born and he left lots of women there with children.
Andy: I actually think I was one of Brian Jones' kids.
Shawn: If we're going for references Robert Plant is from where I'm from.
Andrew: I'm from Liverpool and I can't think of anyone that's come out of there.
Ed: The only famous person to have come from Ealing is Pete Townshend.
Shawn: He's an Ealing boy?
Andy: I thought Jamiroquai was the only one.
Andrew: Influences then, he heard Suede?
Berny: He heard Suede in the vocals.
Andrew: He did?
Berny: We only have the one track to go by.
Shawn: We've definitely sent more stuff in the past. Check your mailbox.
Andy: I don't know I guess its sort of like if someone says your girlfriend looks like this person and you think no she never looks like that.
Ed: I really like...
Berny: Jamiroquai?
Ed: Shut Up! I wanted to play guitar when I saw Johnny Marr play. I really like John Squire of the Stone Roses, the Stones, the Byrds, the Beatles and Led Zeppelin.
Shawn: I don't know
Ed: The Who
Shawn: Yeah, the Who. I was a big fan of the Jam and that's what made me want to get into a band. I always wanted to be a guitarist but then I discovered they're all tossers and I thought drums was much better. I don't know Blue, Steps.
Andy: Well you know Quo and Metallica.
Shawn: He's being honest! He's a big metal fan.
Berny: You were supposed to grow out of that stage.
Andy: I'm still growing out of it. I'm a teenager I'm only twelve.
Berny: That's not quite a teenager then is it?
Ed: You like bands like the Beatles.
Andy: The Beatles.
Andrew: That's right tell him who he likes.
Berny: You can shape children when they're twelve.
Ed: No what bands do you like?
Berny: Its Kylie Minogue isn't it?
Andy: Of course it is really could it be anyone else?
Berny: Well she is in good shape for someone that's been on the charts since the early seventies!
Shawn: I disagree.
Andy: The best band that recorded the most amazing album of all time
Ed: Stone Roses?
Andy: The Byrds which I received t he box set on my birthday last year. Another band we've got to mention here is Love.
Berny: I haven't heard their stuff.
Andy: Alright, Forever Changes by Love. Buy that and if you don't like it invoice us.
Andrew: It started with the Beatles, the Who then the Smiths made me want to be in a band. There's a million other people but I guess that will do. That's how it all started. I started listening to music because of the Beatles and I got into a band because of the Smiths. Everyone that everyone said plus thousands of other people.
Berny: There were quite a few Smiths references you don't look old enough to have been around.
Ed: I saw the Smiths I was so sad about the Smiths I saw them three times in four days. We're a mid twenty something band. Bizarrely enough he hates the Smiths.
Shawn: There's nothing wrong with disliking the Smiths. I'll tell you the problem with the Smiths. Its not that I don't like them but when you're in a band with three people that love a band and you don't know them that well and they all tell you that you should really love them the last thing you're going to do is listen to them.
Andy: The bands that you really listen to and you really love aren't really going to influence your sound. You might spend every single day listening to Metallica but you write stuff and it sounds like the Cranberries.
Shawn: I've actually been reading quite a lot about the Who lately and when I was like thirteen or fourteen the Who were just the greatest band and I think they still are. If you actually listen to their music and listen to stuff you listened to back then its, like "oh".
Ed: We're you a big Who boy? I was really into Dexy's Midnight Runners because my sisters were about four or five years older and they really loved Dexy's Midnight Runners and the Police. I'll stand by Dexy's Midnight Runners first album. But that was what I was into and I'm glad that they did that.
Berny: Are there contemporary artists that you really like?
Shawn: Shania Twain
Ed: I like You're Still the One. There are certain bands I like. The Strokes I literally hated them when they came out I thought they were fabricated artists.
Berny: And you've actually changed that?
Ed: I wasn't impressed when I saw them but when I listened to the album I thought this is alright.
Berny: I think they're one of those bands. If you've heard t hem you're fine with it but once you've actually seen them you're like no I don't want this.
Andy: I prefer the Vines
Shawn: I prefer the Libertines
Ed: I think the Vines are going to be the big boys they're big in America. I like the Coral and I think they're good other than being occasionally boring but when they do a tune they do a tune.
Berny: What's the last show you went to that wasn't yours?
Andy: I went to see the Super Furry Animals
Berny: We're you bored?
Andy: No. They were fantastic.
Andrew: I went to see bizarrely Morrissey at the Royal Albert Hall in November and he was absolutely jaw dropping sensational. It was the best gig I've seen him in ever and I saw him in his pomp and his voice was just amazing.
Ed: What was the last one you went to?
Shawn: I don't want to say.
Andy: Was it Paul Weller?
Andrew: Yeah it was Paul Weller.
Shawn: Yeah, ok it was Paul Weller.
Ed: I think the last gig I went to was V.
Andrew: With David Bowie?
Ed: V2002. I couldn't believe the amount of shit bands.
Andy: Supergrass were amazing.
Andrew: Can we mention Supergrass? Hate Supergrass.
Andy: I really liked Supergrass and they were really good.
Andrew: What is the point of remaking T. Rex? They're remaking it so obviously.
Ed: I said to him close you're eyes, listen that's Marc Bolan singing.
Andrew: There are loads of bands that do stuff that sounds like it but its just their latest single is T. Rex he's done the vocal exactly. Its like one of those Top of the Pops album were they've got different people to do these famous songs.
Andrew: We've got this theory that bands should only do three albums.
Berny: Like get the money and run?
Andrew: No but any great band five years apart from the Beatles they squeezed out eight.
Ed: Contemporary wise, the Roses they did two albums it took about twenty years to get both out. There are certain bands that you're thinking how far are you going to go with this. I went to a gig with a friend of mine last year and thought they're going to be in a britpop reunion tour in five years time. It's going to happen you're going to see like Wembley arena "tonight after the pop stars night and tomorrow night we've got Cast, Supergrass, Shed Seven" all doing it to pay their mortgage.
Berny: Since you have this idea about the three albums have you started on your way to making that first one?
Andy: We're going to do an album this year. Hopefully start in the next couple of weeks.
Andrew: I think we've done the first track. I think it'll be recorded by March.
Berny: Are you going to get a little stopwatch out and start the five year countdown the day the album comes out? As soon as the third one is out we're gone.
Andy: I think that is a bit limiting really.
Shawn: I'm gone as soon as we do the third one.
Andrew: I think you just have to be realistic. There are a hell of a lot of bands now clinging on now, people like Oasis and Radiohead. Then you look at other people like Jeff Buckley who through circumstance only did one album. Then you think I'd rather do only one amazing album then seven or eight.
Berny: There have been a lot of bands on our show that have only done one album.
Andrew: I recommend it. You get the major bands like the Stones and the Who that still tour but all these other bands seem to have taken their lead from that.
Berny: Do you still all have regular day jobs?
Andrew: We all still work.
Berny: Ok who has the most boring job here? Just a quick round of what everyone does.
Shawn: I work for a university and I give advice to students on their general welfare.
Berny: Do you get crying students all the time?
Shawn: Yes some crying students and sometimes they make me cry as well.
Andy: I work for a PR marketing company, I sold my soul.
Andrew: I work for Virgin at the head office.
Berny: At the megastore head office? We have so many of your people at our office!
Andy: I want to change my title to a professional pole vaulter.
Berny: Ed, what do you do?
Ed: I make love to my girlfriend strenuously.
Berny: Well that's good but does she pay you for it?
Ed: Yes she does.
Andrew: I'd like to change my job as well. I also make love to his girlfriend.
Ed: They all do.
Andy: So do I.
Shawn: I make love to Ed.
Andy: There's a lot of love going on.
Berny: Where do you want to go besides LA do you envision yourself playing Wembley or will you be happy with people just hearing the music.
Ed: I want to sell a lot of records. If you do something you really love and care about you want as many people to hear about it. In England seven years ago we could have sold like two million records. To be heard as many people as possible that's the plan. I don't really want to be a cult band.
Andrew: Its a difficult question. I think number one you have to do it for yourself. Especially when you're in the position you're in making great music but not selling great music. I think the first thing you have to do is really look at yourself.
Berny: So you want to get mega huge and move to LA to buy beach houses?
Shawn: I just find it quite weird that there seems to be this new thing about it being kind of cool to be in a band that doesn't actually sell that many records but its still kind of cool.
Ed: And you're on the cover of the NME.
Shawn: I don't think there's necessarily anything uncool about selling loads of records.
Berny: But just to get to the point where you don't have to take time off of your regular job to go tour.
Shawn: We really want to give up our jobs.
Ed: I quite like the fact that we have to struggle.
Berny: Do you think it will make you appreciate it more?
Ed: All of our girlfriends, friends and everyone around us knows we put every spare penny we have into paying for post office boxes, web sites and all that.
Shawn: We probably appreciate it more than any band that gets a leg up in the industry because their brother or something works in the industry.
Ed: There was a really good point by Ian Brown that there's no way a good band won't make it. There's no way if you're good. If you're half assed about it you're going to play like that and you won't get anywhere. I think this year is going to be a very big year for us.
The author reserves all rights for the above interview. Please notify us with any intentions or desires to re-broadcast the above in any manner.