Please email us if you have any problems, thoughts or questions.

best of 2002 best of 2003 best of 2004
-------------------------------------------------------------------------------------



The Indie Shop's

Best Of 2004







The top 20 albums of the year
01- The Veils - The Runaway Found
02 - My Teenage Stride - A Sad Cloud
03 - Muse - Absolution
04 - Franz Ferdinand - Franz Ferdinand
05 - Would Be Goods - The Morning After
06 - The Arcade Fire - Funeral
07 - The Shore - The Shore
08 - Graham Coxon - Happiness In Magazines
09 - Ciccone - Eversholt Street
10 - Morrissey - You Are The Quarry
11 - The French Kicks - Trial Of The Century
12 - Keane - Hopes And Fears
13 - The Bees - Free The Bees
14 - Interpol - Antics
15 - Ambulance Ltd. - Ambulance Ltd.
16 - Ed Harcourt - Strangers
17 - Alfie - Do You Imagine Things
18 - The Secret Machines - Now Here Is Nowhere
19 - The Guild League - Inner North
20 - Air - Talkie Walkie
.......and a few others albums

Holy Hydraulics - 2004 ep
Legends - Up Against The Legends
Louis Eliot - The Long Way Round
The Dresden Dolls - The Dresden Dolls
Camera Obscura - Under Achievers Please Try Harder
The Delgados - Universal Audio








The top 20 songs of the year
01 - Aveo - Dust That Dreams Of Brooms - Battery
02 - Sodastream - Blinky - A Minor Revival
03 - Franz Ferdinand - Take Me Out - Franz Ferdinand
04 - The Veils - The Tide That Left And Never Came Back - The Runaway Found
05 - Muse - Butterflies & Hurricanes - Absolution
06 - My Teenage Stride - Let's Go To The Firewalk - A Sad Cloud
07 - Ciccone - Look At You Now - Eversholt Street
08 - Holy Hydraulics - A Pleasant Approach - 2004 ep
09 - The Shore - Hold On - The Shore
10 - Ed Harcourt - Lonliness - Strangers
11 - Morrissey - Irish Blood, English Heart - You Are The Quarry
12 - The Veils - Lavinia - The Runaway Found
13 - The Faint - Southern Belles In London Sing - Wet From Birth
14 - The Happy Bullets - I Should Have Been An Airline Pilot - Blue Skies And Umbrellas
15 - The Free French - Fireman
16 - The Trashcan Sinatras - All The Dark Horses - Weighlifting lp
17 - Graham Coxon - Spectacular - Happiness In Magazines
18 - Air - Venus - Talkie Walkie
19 - Giant Drag - Blunt Picket Fence
20 - Imaginary Bill - Hollow - Breaking The Ground Loop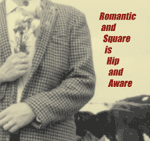 Compilations / various
Romantic And Square Is Hip And Aware - Matinee Records

Live shows
Again we had the pleasure of a favorite band out of Canada making the long journey
to Los Angeles. This time it was The Dears, and this time we were lucky enough to
chat with front man Murry Lightfoot. As dramatic and all encompassing as the band can
be on plastic, it was a hundred fold live. One of the rare cases where a performance
gives 'shivers'....the good that is!
We also had the pleasure of watching Franz Ferdinand play their first show in Los Angeles.
Yes, the band was great but there was another reason that the gig was memorable. Through
most of the gig we had to deal with a loud obnoxious man who was also a bit drunk, had a
British accent and oddly enough, looked very familiar. I could never place it but was close to
making a bit of a scene. A month later I was looking through the Fonda web site and realized
it was former guitarist David Newton......
And to round the year off, we FINALLY had a chance to both watch and meet local band
Holy Hydraulics. Sadly it took a gig in Long Beach's El Piazzas, a place better known for
bad pop-punk bands.

The Dears @ Spaceland
Franz Ferdinand @ The Hollywood Troubadour
Holy Hydraulics @ El Piazzas

Dissapointments :(

The Divine Comedy – Perhaps my most anticipated release of the year. It might be best summed
up by the b-side 'Idaho'. What was such a lively and energetic song live was pared and slowed
down to where it is now, a slow methodical bit of irony. Much like the album, aside from the
standout songs, it can be a challenge to make it through. Surely not a release that will draw new fans…..

The Futureheads – Am I the only one who sees a lack of focus in the songwriting? I really wanted
this band to do well after loving their first two singles. Sadly the album doesn't do those songs justice…..

The Zutons – This is a band that went from unique to bland….though some may argue that their
'trademark sound (borrowed heavily from The Coral) is unique by nature. In the end, like The
Futureheads, they've released an album that lost the passion and improbability of their first singles.

for the future.................on to 2005

I might as well jump on this bandwagon now……I wasn't very impressed with Bloc Party's initial
release. But having heard their debut full length, Silent Alarm, I'm now a convert. It's close to what
makes Franz Ferdinand great, something catchy bouncy but with enough punch and songwriting to
hold it together. Even the vocals, something I'm extremely touchy with, work.

Granted, NME has already given Bloc Party enough buzz to last their career, and it's extending over
to the U.S. nicely. But I'm sure you'll see this band take off when your local 'alternative/pop' stations start playlisting them.

What else? How about the long awaited full length from The Boxer Rebellion. Than you have the extremely interested reunion
between Suede's former partnership of Brett Anderson and Bernard Butler.